At Base, we've always believed in helping Executive Assistants do their work more efficiently. In 2022, we introduced a set of new features and integrations to our all-in-one workspace to help EAs and their teams save time, streamline communication, and stay successful.
Share and organize information more quickly with Base's integration for Microsoft Teams
With the abundance of workplace tools for communication and organization, it can be tough to keep track of your important conversations. In 2021, we released our Slack integration to enable users to work seamlessly between the two platforms. Now, Base has also integrated with Microsoft Teams!
This integration for Microsoft Teams allows you to push messages from Base to Teams, and vice versa, to make capturing and organizing information easier, simpler, and more intuitive.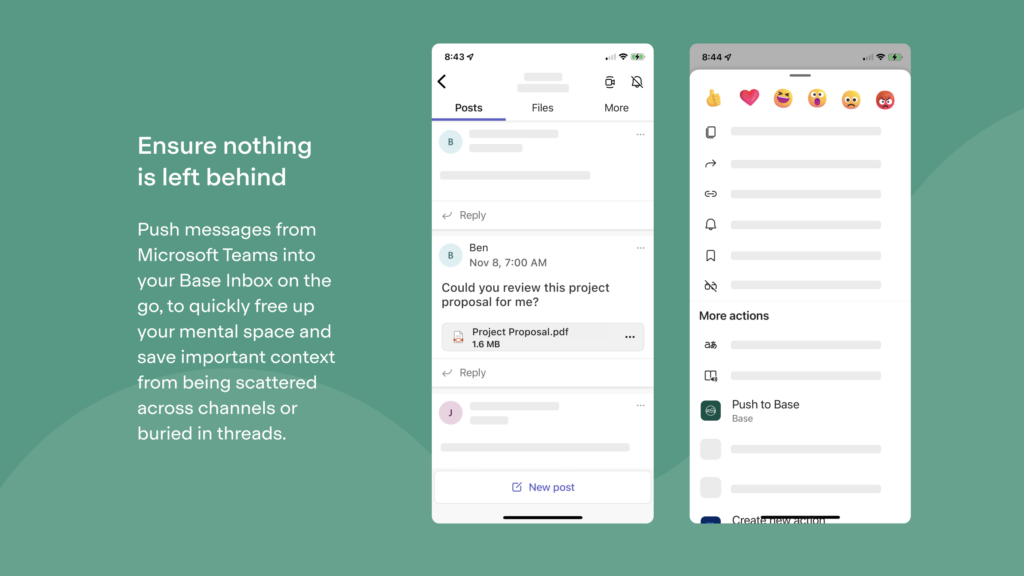 Get quicker answers and decisions with embedded Decision Streams
Every day, there are a multitude of questions, updates, and reminders that executives need to address in order for you to do your job. Our Decision Stream feature enables busy executives to respond to numerous questions in seconds — getting you the answers you need without the back and forth.
Now, you can embed a Decision Stream directly into your Base Digest! When you share a Digest, the recipient can view and interact with embedded questions, eliminating the need for additional communication or stray links that get skipped.
Decision Streams in Digests now also display a response status, allowing you and the recipient to see at a glance how many questions are pending response, skipped, or answered.
Improved security measures with SCIM implementation
Today's employees tend to use many cloud-based apps and services, making user account management more complex as companies hire and manage turnover. Because of this need, we've upgraded our enterprise security features with the implementation of SCIM (System for Cross-domain Identity Management).
This update enables IT departments to automatically create, update, and deprovision users in real time, thus eliminating the need for manual updates and strengthening security.
What else is new in Base?
No need to refresh! Calendar updates now occur automatically in Scheduler and in the calendar widget on your Dashboard.
You can now save precious time by converting Digest comments directly into Tasks.
Reactions in Digest got an upgrade! We've added larger icon sizes, new tooltips, and additional emojis.
Propose Time now allows hosts to set availability to start or end at 15 minutes past or before the hour. Guests can do the same when they suggest times during voting.
Customize your Dashboard by filtering which calendars are displayed and updating the date range.