Organizing information is now seamless with Microsoft Teams + Base
Keeping track of everything on your plate can be a huge hassle, especially when your organization uses multiple tools for communication and organization. If you regularly find yourself scrolling through Teams messages to find old information or conversations — Base now has you covered!
Base's integration with Microsoft Teams allows users to push messages from Base to Teams, and vice versa, to make organizing information easier, simpler, and more intuitive.
If you use Teams in your organization, it's now even easier to integrate Base into your daily workflow.
Capture information in Base without ever leaving Teams
When you connect your Base account to Teams, you can capture inputs immediately as they flow in.
Without ever leaving the Teams application, you can push messages directly into your Base Inbox to organize later as tasks, follow-up questions, contact details, or custom notes.
If you receive a Teams message with an action item, important context, or key detail, you can now capture it immediately in Base — eliminating the need to copy and paste or scroll through old messages to find what you're looking for. And if you ever do need to find that old message, we make it easy for you by providing the original Teams message link in Base!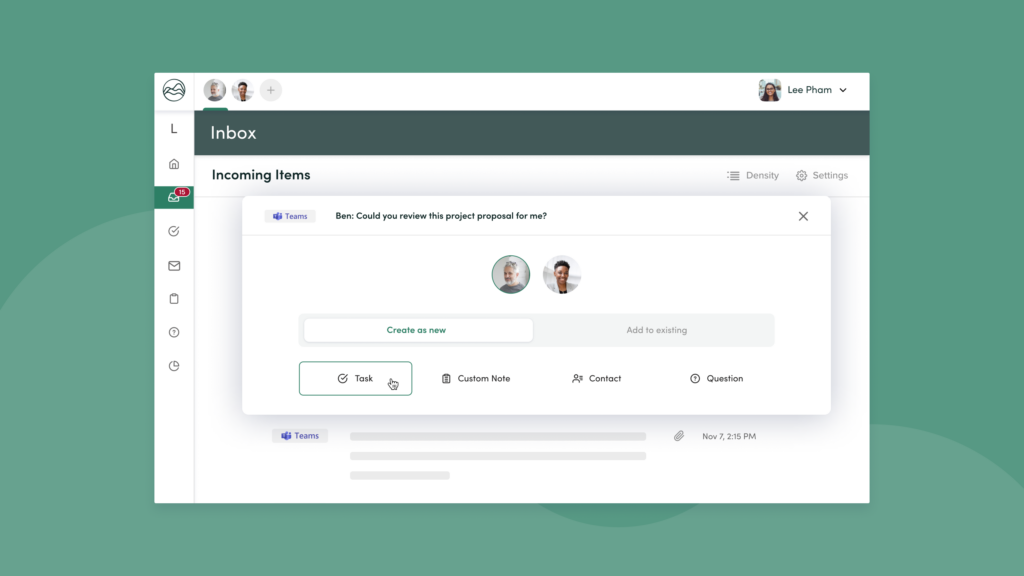 Trigger Teams messages within Base
With Teams connected to your Base account, you're able to quickly share information or questions with your executive(s) and eliminate unnecessary back and forth.
While you're working in Base, you can send or schedule messages with executive briefs, itineraries, summaries, and more — so your updates arrive at the best time.
These messages will appear automatically within Teams, enabling the recipient to effortlessly read or take action without you needing to manually copy and paste links.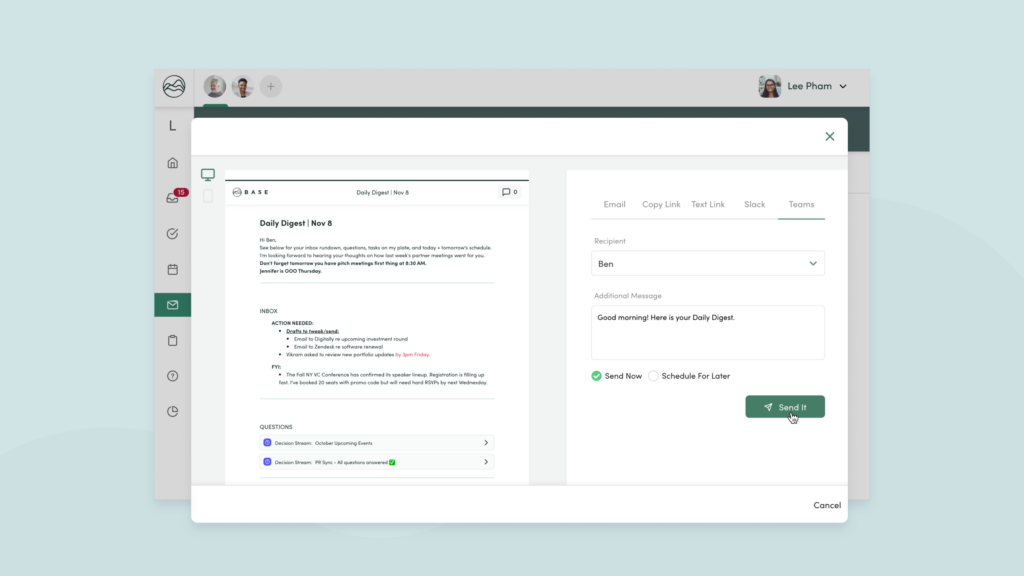 Ready to start organizing Teams messages more effectively?
Our Microsoft Teams integration is available for all Base and Teams users! Connect Base to your organization's Teams account with approval from your IT admin, and you're ready to go.
If you're not currently a Base user, schedule a demo to see how our all-in-one workspace for Executive Assistants can help you work more efficiently and make time for what matters.