Take Administrative Support To the Next Level with Base
Base is revolutionizing the way assistants and executives work together. By providing tools and technology tailored to the executive work style, Base is maximizing the impact of support professionals everywhere.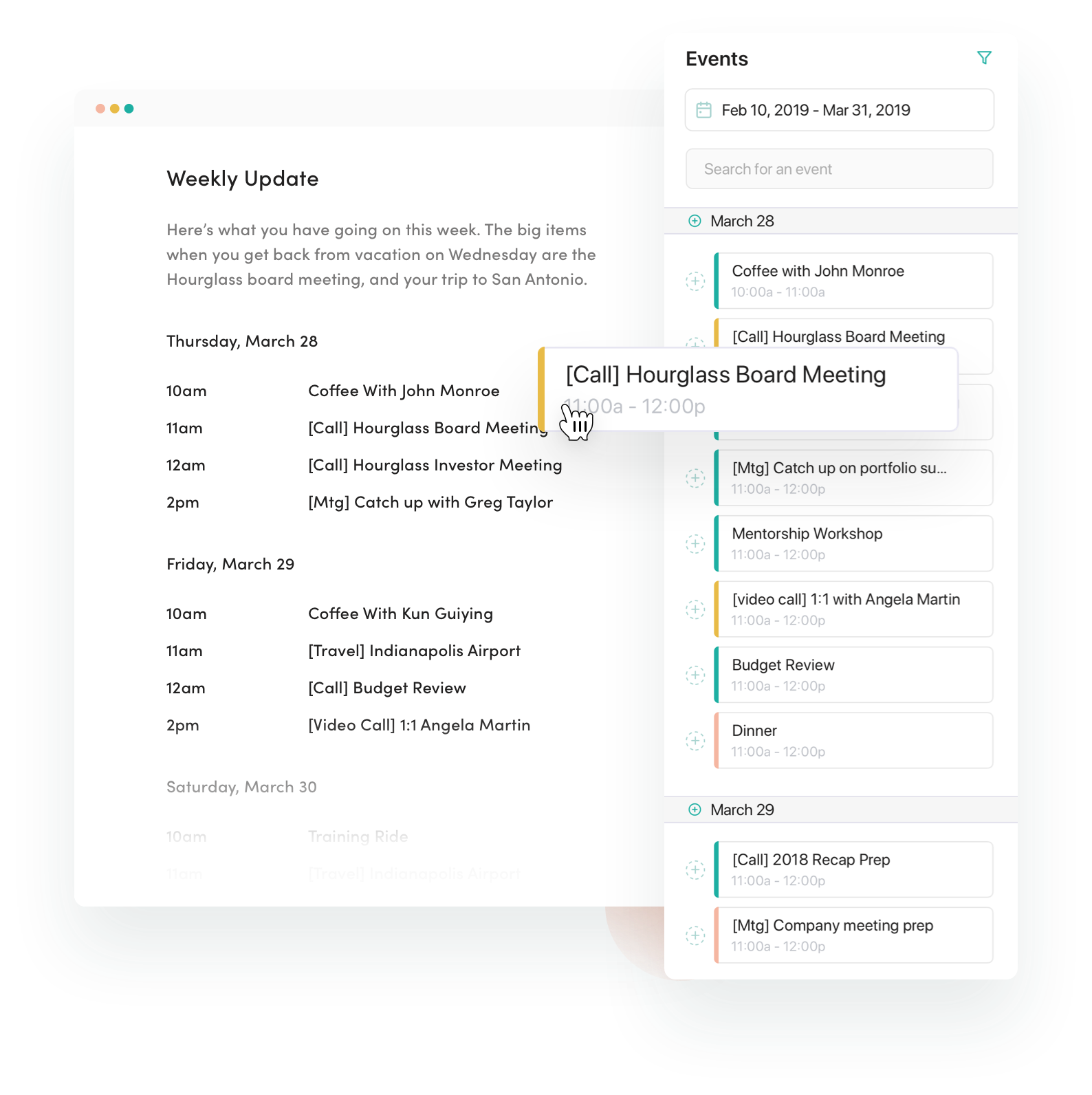 Administrative Support: How to Get Ahead in Your Career
Are you pursuing a career in administrative support? In order to get ahead, you need a firm understanding of the industry, starting with knowledge about the meaning and definition of the role. Administrative work relates to the organization and task management needed for a business to operate effectively and efficiently. These positions involve a high level of detail, including bookkeeping, scheduling, and process documentation. Keep reading to learn more about the job description of an administrative support specialist, including support skills needed, resume best practices, a typical administrative assistant salary, and how being an office administrator differs from other administrative work.
Administrative Support Job Description
Although administrative support job descriptions vary from position to position, there are some general responsibilities that are common amongst administrative professionals. Below you'll find administrative support examples related to the typical job description.
A typical business administration job description involves support for managers and other employees, but changes depending on the industry. Consider an administrative assistant job description sample from a law office. In the field of law, the administrative support job description might include that the employee has impeccable organizational abilities, experience in law or as a paralegal, and strong communications skills. The employee would probably also want the employee to assist with key operations within the law firm, including handling processes related to the acquisition of new clients.
In general, administrative professionals are responsible for managing phone calls, answering emails, scheduling appointments, making travel arrangements, and more. Administrative support jobs typically involve helping the executive team and business as a whole stay organized, all the while ensuring documentation is being handled correctly.
If you're wondering if if "administrative support specialist" is just a better title for executive assistant, the technical answer is no. Administrative support professionals usually manage office operations while executive assistants usually report to one or more executive. However, employers sometimes use the titles interchangeably. Either way, business admin roles are in high demand in the United States. Whether you're looking at an EA role or an operations administrative job description, the responsibilities continue to expand.
Administrative Support Responsibilities
Given that many businesses across most industries need administrative support, job descriptions can vary greatly. Most employers will post an administrative assistant duties and responsibilities list to give candidates a better feel for the role. Below you'll find a number of administrative tasks examples, which will give you a more concrete administrative work definition.
General Administrative Roles and Responsibilities
Here is a list of administrative duties that you might find aligned to an administrative position:
Manage and document office processes
File and generate financial reports
Develop presentations
Schedule executive meetings
Order office supplies
Manage incoming and outbound office mail
Print, fax, and file key documents
Manage travel arrangements
Answer and screen phone calls
Conduct research for the business and/or industry
Manage executive email
Administrative functions and responsibilities vary from industry to industry and from position to position, so it's best to conduct research regarding the specific industry you're interested in to get a better sense of the admin work responsibility.
Administrative Support Skills
If interested in administrative work, then there are many administrative assistant qualifications you should consider obtaining in order to raise your chances of landing a job. Specialized administrative assistant skills are in high demand, so the more administrative skills you have, the better off you will be in the field. Here is a list of the typical admin support skills needed to excel in the support profession.
Technologically-advanced
Exceptional verbal and written communication
Proper phone and email etiquette
Able to handle high-stress situations
Impeccable organizational skills
Able to multi-task
Time management skills
Detail-oriented
Able to problem-solve
Resourcefulness
Able to anticipate needs
These general administrative skills are needed for just about any support position. You must be the backbone for the business and have confidence in handling many different tasks simultaneously.
How to Improve Administrative Skills
If you're trying to obtain or improve on the skills needed to excel as an administrative officer, there are many resources out there that can help (Base included). Try to speak with current or formal administrative professionals, or take classes and participate in workshops related to this type of work.
Resume Best Practices
Looking for administrative assistant resume tips? Want to learn from the best administrative assistant resume examples? If you want to excel in the administrative field, crafting a professional resume that highlights your best attributes is very important. Here are a few administrative support resume best practices.
Keep it simple and straightforward
Focus on the experiences most similar to the role you're applying for
Reference the job description and include relevant qualifications
Include links to relevant online profiles like LinkedIn or your professional portfolio.
State key skills you have that relate to the position
Include relevant educational achievements and qualifications
Mention previous positions and include bullet points for job responsibilities
While you want to depict a compelling view of your career and background, keep your resume short and sweet. Your administrative assistant job description resume should highlight important aspects of your background, but should not be more than two pages. Focus on the aspects of your career that you think the hiring manager will find compelling enough to push you through to the next round.
Salary Negotiation
If you're new to the administrative profession, you're likely wondering what you can expect in terms of an administrative assistant salary. Below, Base has gathered some helpful information related to the administrative coordinator salary. You'll find tips for negotiating as well as an explanation of how the salaries varies depending on a number of important factors.
Expectations
According to Glassdoor, the typical administrative support salary is $43,261 per year. However, the salary varies greatly depending on experience, education, and industry.
Negotiation Tips
Consider the following tips to negotiate a higher administrative support specialist salary:
Do your research on the typical administrative salary for the region and industry you're applying to a position in.
Know your worth and have an idea of the salary you require before going into the interview.
Show documentation of your past contributions in previous positions.
Understand that there will likely be pushback. Ask for a slightly higher salary than where you truly want to land.
Remain polite and professional at all times.
Negotiating higher pay can be very difficult and uncomfortable, but it's important to ensure that you get the salary you deserve.
Consider the Variables
The truth of the matter is that there are many factors that impact what your administrative support salary per hour could be. These factors include:
Your past experience
Title of the position
Region of the position
Responsibilities of the position
Industry of the position
Success and size of the business
With how much these positions vary in terms of responsibilities and required experience, the pay can fluctuate dramatically. Be sure to consider the variables before entering into a salary negotiation.
Office Administration
When considering a career opportunity in the area of office administration, it's important to understand how an office assistant job description varies from an administrative support specialist. While the job responsibilities may overlap, the key difference is that an office administration position is more focused on duties related to office tasks and processes. Office admin roles often put emphasis on:
Answering company phone calls
Manage incoming and outbound office mail
Responding to general inquiries (usually associated with an "info" email address)
Coordinating conference rooms and large, in-person meetings
Documenting office processes and procedures
Ordering and maintaining office supplies and equipment
Although these positions can be very similar, an office administration role is typically more focused on office duties rather than the whole realm of business operations.
Now you've had an in-depth introduction to the administrative support profession, you should have the confidence to enter this job market with ease. Although administrative positions can be competitive, doing your research can give you the upper hand. If you want to stay up-to-date on administrative best practices and continue advancing your career, be sure to join Base's community! We are modernizing the administrative support industry. Get a demo today!