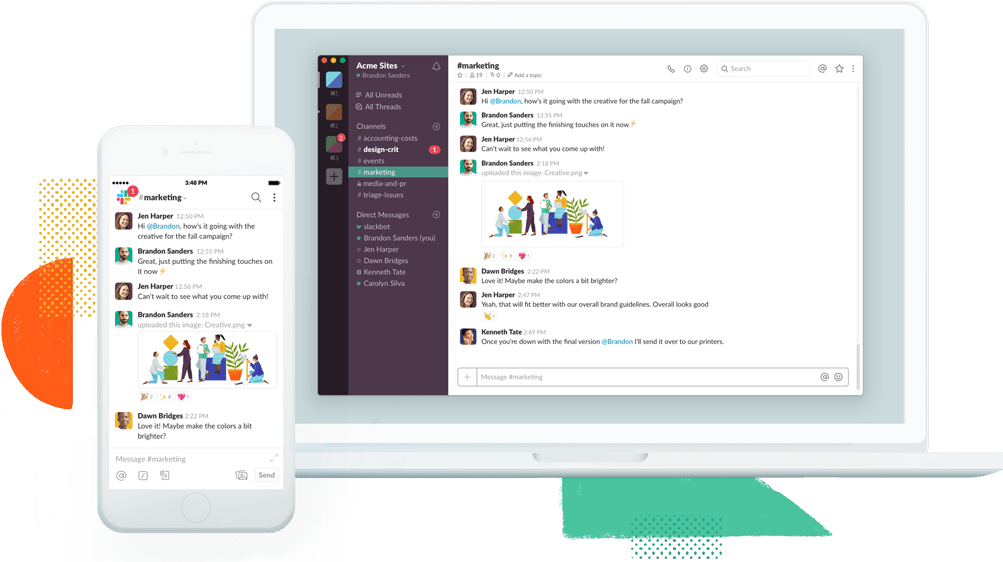 Are you an avid Slack user? Slack is taking over the workplace, especially for those of us who work remotely or have teammates out of the office. Slack is a cloud-based communication and chat tool that helps us stay connected and get our jobs done. It also has a ton of fun and clever shortcuts that will help you speed through your work and have a little fun while doing it. Here are a few of our favorites.

Integrate and configure apps
Let's start with the big one: integrations. Slack integrates with many of your favorite apps, and there are a few more created just for Slack! Increase productivity by integrating project management tools like Asana, or just have some fun by integrating apps like Giphy.

Here's how to add apps: Click on your name in the top left, choose "Customize Slack," and then in the left sidebar of that page, choose "Configure Apps."
This page allows you to search for or browse through apps. You can integrate your project management software (Trello, Basecamp, ClickUp, etc.), create polls, access calendars, get the weather forecast, and even change the song on Spotify, all through apps in Slack.

Train your Slackbot
Do you ever talk to your Slackbot? If you don't, you should! Ask your Slackbot for help, and it will point you to the right resource to troubleshoot or learn about Slack. Slackbot can do much more than point you to help; you can train your Slackbot to respond a certain way to specific commands.

How to train your Slackbot: Under the "Customize Slack" page, go to the "Slackbot" tab. You can set what Slackbot's response will be to any user's specific phrases.
Think through what type of questions will get asked often, and have Slackbot ready to answer those automatically. "What is the wifi password?" is an example of a question you could preload into Slackbot. Or, you can have some fun with it!

Custom notifications
This is not quite as fun as training your Slackbot, but you can set up custom notifications in your Slack workspace. This will prompt Slack to notify you for more than just mentions of your user or direct messages. Did you just finish a big project and want to be alerted when someone Slacks a question about it? You can set that up. Do you have a big deal you're keeping an eye on? Set that company name up as a custom notification so you don't miss any conversations about that customer.

How to add custom notifications: Click on your name in the top left and choose "Preferences" from the drop down menu. Under "Notifications," select the "Direct messages, mentions & keywords" option, then list your words in the "My keywords" section.

Phone and video calls
In case you aren't already using Slack for calls with your teammates, this is a great feature of the tool. You can share video, invite others mid-call, set the call up for others to join later—it is a great tool for teams to see each other. The screen sharing option has the extra bonus of allowing the viewer to draw on the screen, too. No more awkwardly trying to direct someone where to click over the phone!

Visit this page for more info on Slack calls and how to use them.

Formatting
Slack allows custom formatting of your messages. It has similar formatting to other tools, like Trello, but it is also smart enough to take on keyboard commands. You can set up a phrase to be in bold or italic by pressing "Ctrl + b" or "Ctrl + i," and the formatting sets itself.

Edit your posted message
Did you forget to spell check before you pressed enter? No problem! You can hover over the message and select edit, or you can just simply press the up arrow to initiate the editing of your most recent post.

Pin posts for reference
You can pin any specific post in a Slack channel or DM. Pinned posts are easy to find by clicking on the pin icon at the top of that channel (or DM). Easily find posts with instructions on how to do something, someone's contact info, or anything that will need to be referenced by everyone in that channel.

Use stars to create to-do lists
You can star messages for yourself throughout Slack and then view them all in one space. If you get requests from multiple coworkers throughout your day, star those requests to see a full request list, and stop any request from falling through the Slack cracks!

Keyboard commands
Last but not least, Slack has all sorts of keyboard commands you can use by simply starting a message with "/" (forward slash). Press the forward slash button and see the options appear. There are so many helpful commands, and if you set up integrations (see the beginning of this article) you'll likely have even more commands available. Here are a few of the handy things you can do with just your keyboard:

Set reminders (for yourself and/or others) (/remind )
Leave a channel (/leave [channel])
Join a channel (/join [channel])
Mute a channel (/mute [channel])
Shrug (/shrug)
Send a Gif (/gif [phrase])
Send a poll (/yesno [poll question])
Productivity can be fun! Slack knows how to mix in some whimsy while also helping you get work done.