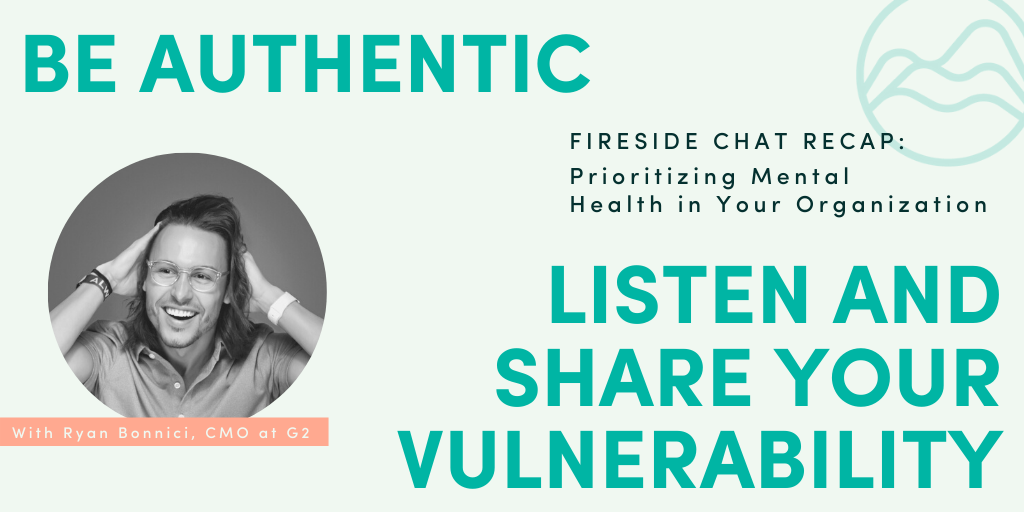 We're thrilled to have featured guest Ryan Bonnici, CMO of G2, in our fireside chat with our founder and CEO Paige McPheely to talk about prioritizing mental health in your organization.
Whether you're an executive or administrative professional, it's important to put a focus on mental wellness in your company. Ryan is also a board member for Bring Change to Mind, a mental health organization founded by actress and activist Glenn Close. Bring Change to Mind's mission is to end the stigma and discrimination surrounding mental illness.
In this discussion, Ryan and Paige shared how:
They've welcomed the topic of mental health within their organizations
How to approaching opening conversations for topics like mental health
As leaders, how much transparency to share with employees
How to open the door for feedback
Personal experiences that have led to their mental health journey, and more.
Here are some highlights from our discussion:
More often than not, people want to talk about mental health.
For most people, the stigma surrounding mental health is why it's not discussed regularly. Open that line of communication to make this a welcomed topic among your team.
…But, be authentic!
Holding an all-hands Zoom call to specifically point out to your employees that they can talk about their mental health struggles—while on the Zoom call—may not be the best route. What's authentic to you? Do you send a weekly email to the team? Use part of that email to bring up that this topic is welcomed in your company, and that it's OK if you need to take time to focus on you.
Encourage mental health days if you need them (and in general).
Mental health days shouldn't just be for when you're extremely stressed. Try working into a routine where you're focusing on yourself in a regular cadence and not heads-down on email or projects. Paige takes every Thursday to shut down her computer and journal, focusing on the same five questions she's framed to align priorities, look at progress, opportunities to work towards, and more.
Ryan takes no meetings on Wednesdays (unless it's critical or time-sensitive), so he can have focused time as well. Take a step back and identify what's causing your stress and establish a regular way to help address it. Whether it's no-meeting Wednesdays or a regular weekly block when your computer's shut, find something that works for you.
Start small, introducing this topic into your organization doesn't need to be a huge overhaul.
Listen and share your vulnerability. Nine times out of 10, if you open up to someone, they're going to do the same. Even if they don't right away, it opens the door to welcome the discussion. Your teammates and employees will feel comfortable with the topic of mental health if their leadership helps start those conversations.
Ways to start these conversations:
Welcome this level of transparency in your 1:1s
Check in with your team. It can be a simple Slack message or email.
Embrace failure. Embracing failure is being vulnerable, and it lays the groundwork for learning how to be better.
Watch the full recording here, and connect with Ryan and Paige on LinkedIn. Learn more about Bring Change to Mind on their website.