On the surface, event planning and project management for executive assistants don't seem too terribly different. Both event planning and project management involve a list of tasks that need to get done by certain dates and times, right? Well…yes—and no. While there are definitely some distinct similarities, there's also some major differences.
While both of these executive assistant professional development goals deal intimately with task lists, milestone tracking, and cross-team collaboration, there are certain nuances that should be noted. With project management, you can expect the process to be well-defined and flow strategically. Event planning, on the other hand, is often a whirlwind of ever-evolving planning and implementation.
Below, we break down these two executive assistant goals so you can have a basic understanding of each. Keep reading to learn more.
Event Planning for Executive Assistants
After a year of lockdown, we're predicting people are going to be itching to attend events here soon. In light of this, now's a prime time to start honing your event planning skills. As an EA, you're expected to plan events both big and small (and virtual!) While one week you might be asked to coordinate a board meeting, the next you're planning every detail of your executive's week-long business trip.
Even though we already know you're a pro at multitasking and staying on top of deadlines, you likely still have some room to up-skill. Since executive assistant event planning has so many ever-moving parts and you already have a laundry list of tasks to complete—having access to EA tools and support is a must.
From planning product launches and brunches to meetings and vacations, you'll want to have a good idea of your executives' unique preferences. While some will leave the decision-making to you, most typically want some input level throughout the planning process. Instead of coordinating with your executive through 50 different emails, texts, and Slack messages, our platform puts your questions in a live, interactive feed that your exec can easily take in.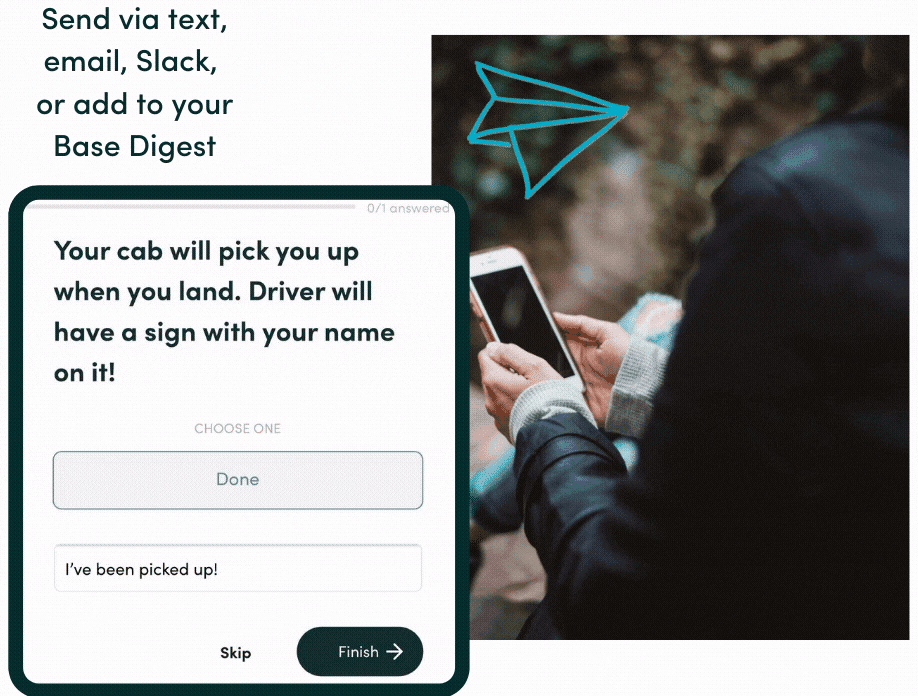 With Base, you can quickly ask questions about flight preferences, meeting scheduling, and various other itinerary inquiries. Your executive will love that they can quickly look through your queries, and you'll love their ability to provide quick input to your important and often time-sensitive questions—especially when taking on the challenge of event planning.
Executive Assistant Project Management
When thinking up ideas for your executive assistant professional development plan, project management is another highly beneficial skill to sharpen. This is definitely one of those goals that will not only help in your daily life, but it'll also warrant major bonus points in the eyes of your executive.
Project management for executive assistants comes with a ton of responsibilities and is often regarded as a bit more complex than event management. EAs are already pros at making sure everything comes together just as it should—whether it's for a board meeting, black-tie event, or out-of-town conference. And with our EA-focused platform, we can make the entire project management process a breeze.
If a leadership role is something you're looking to accomplish as an EA, education and certification in project management is a great avenue to take. This professional development goal not only helps you get a seat at the table, it also allows you to step up and grow within your career. (Learn more about the Chief of Staff role in this webinar with author and Chief of Staff Hallie Warner.)
Better yet, getting your project management certification puts you in a whole different salary bracket as an EA. Really, who doesn't want to make more money?
We Offer The Best Platform for Executive Assistants
At Base, Professional development for executive assistants is our M.O. Whether you want to gain more insight on event planning or project management for executive assistants (or both), we're here to help you access the tools and support you need to up-skill in your career.
Do you want more goal setting, planning, and project management resources? Join our community of 3,000+ assistants, and subscribe to our YouTube channel!