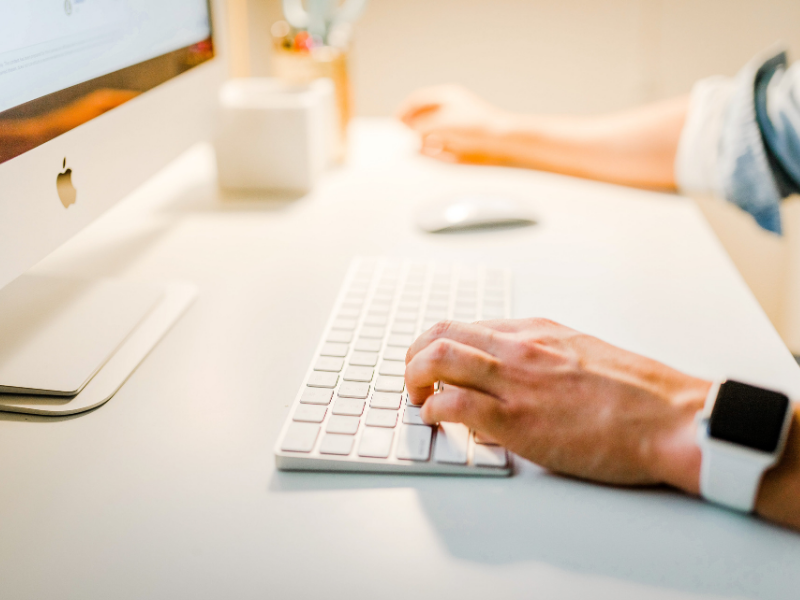 As an executive assistant, it is your job to ensure your executive is well informed, prepared, and does all the things. The role of an executive encompasses making several significant decisions for a company at a time and being included and multiple company initiatives. It can be a challenge to keep their tasks organized and deadlines met. Email digests can be a powerful tool between you and your exec that will keep them informed and keep things moving forward.

What is an email digest?

An email digest is an email you send to your executive on a set cadence that gives them a high-level, easy-to-consume view of their workload. This digest can simply be an overview of their calendar, or it can include more information such as project updates, questions, and inbox updates. The expectation of a digest is that it's one of the single-most important emails your executive reads.

Why you should use them

The goal of a "digest" email is to provide a central location to review the shared needs and workflows between you and your executive. This email will give them the quick info they need to be as productive as possible in their day and week.

Key value-props to providing your exec an email digest

Digests give you and your exec the opportunity to review upcoming meetings and ensure they are prepared for those meetings. Are there tasks you are preparing for them? This is your chance to update them on those items, and ask for any input you need from them. Attaching it to this upcoming, timely meeting will help them to prioritize those inputs with other items on their to-do list.

They give your executive a comprehensive view of the week ahead. This can bring to light any potential complications or conflicts, allowing you and your exec to combat those ahead of time. Do they have conflicting meeting requests? Do they have deliverables that affect an upcoming marketing launch, but no space in their calendar for work time? Seeing these items in one place helps to alert you and your exec of these complications and gives you time to find solutions.

Digests consolidate communication and questions into an organized message. This prevents you from sending multiple emails throughout the days and weeks, filling up your exec's inbox.

Where to start in building an email digest

You see the value in digest emails, but where do you start? How do you know what will be most useful to your executive? Ask them! Talk to your executive about their workflow and work habits. Together, you can come up with a plan and cadence for what will make the most effective digests for both of you.

Maybe your executive works best first thing in the morning.
Having that digest email in their inbox right away will give direction on what to do in their most productive hours. Maybe they think getting a daily email will be overwhelming and will only give them more emails they have to read through. A weekly digest may be perfect for their workflow.

Find out what level of information will be useful to them in this digest.
Do they just want a summary of the week's meetings, or, do they prefer to get an update on all projects in one place?

What if they aren't sure what is going to work best with their habits?
Great, this is where you can show your value by being the expert and making suggestions. Maybe you've seen a lot of projects get stuck in the middle of the week because they are too busy to keep up with their next action item. A daily digest with project details may be exactly what they need to move things forward.
Maybe you see she accepts too many conflicting meetings. A weekly calendar summary can help you both to plan ahead and create an ideal calendar for their week. You can even mock up a couple examples to show them the options and how each of those can help her be more efficient and informed.

Don't be afraid to jump in and try something.
Creating your first digest together with your executive is what will show you what works and what doesn't. Be nimble and focus on finding something that improves your executive's work week.
You are ready to start making your first digest
Here's how to organize your email digest for optimal efficiency.

First: Consider what is the most important thing for your executive to see an act on. Make sure these items are at the top. If emails get too long, people can start skimming by the end, or not even read the whole message. If something is important or urgent, make sure it is first.

Second: Call attention to anything that really needs to be seen, such as bolding due dates, or using different colors for their action items.

Third: Create a template—this will be a recurring task. There is no reason to reinvent the wheel every time you send a digest. Organize your order and headings, save this as a template in your email system (i.e. canned responses in Gmail), then rinse and repeat.

Here are a couple of examples of how you could organize either a daily or weekly digest email to your executive:

Example 1:
You and your executive have decided they want a weekly digest giving a summary of their calendar for the upcoming week.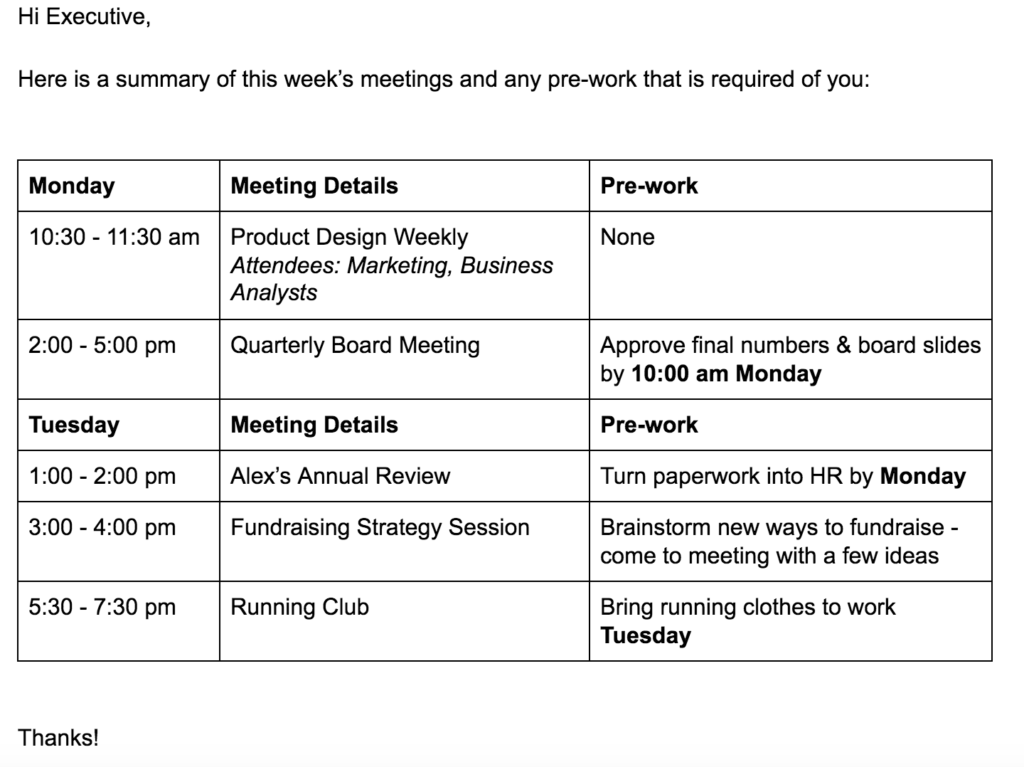 Pro-tip: End the week by sending out the same chart, but including any action items or follow-up required from the meetings. See example below: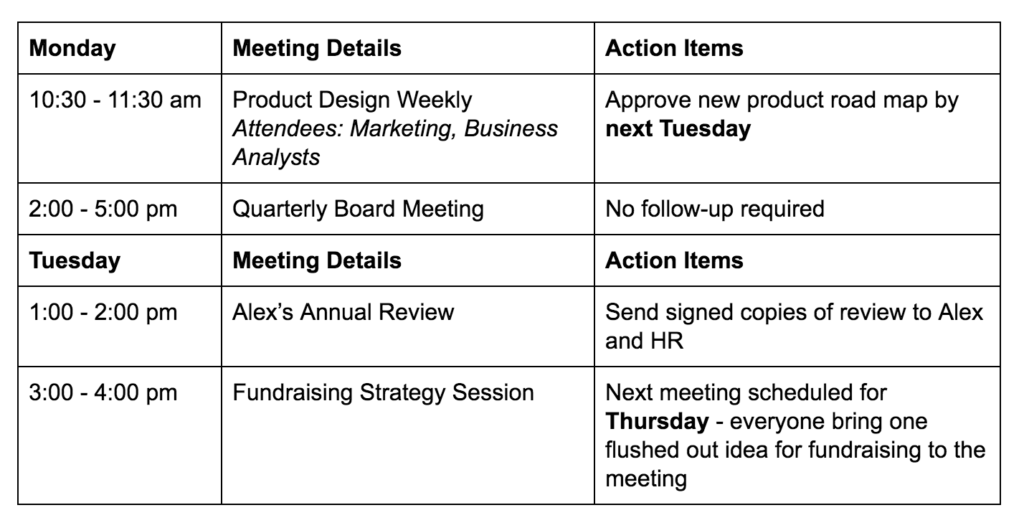 Example 2:

You and your executive have decided they would like a daily email at the end of each day. They would like inbox and calendar updates for the following day so they can start with that email first thing in the morning.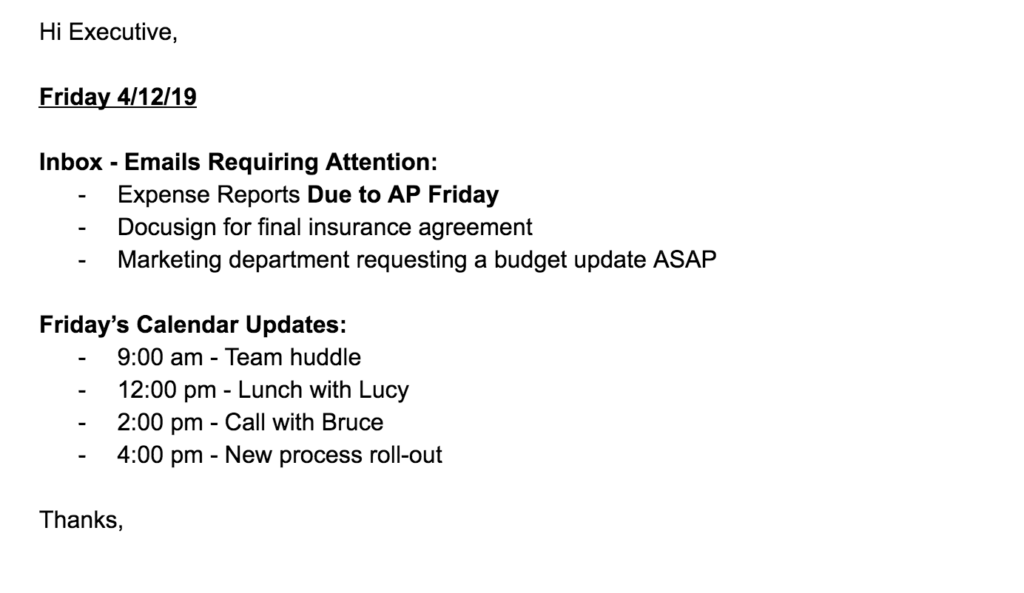 Example 3:
You and your executive have decided they need a weekly digest including project details and action items in addition to a calendar summary for the upcoming week.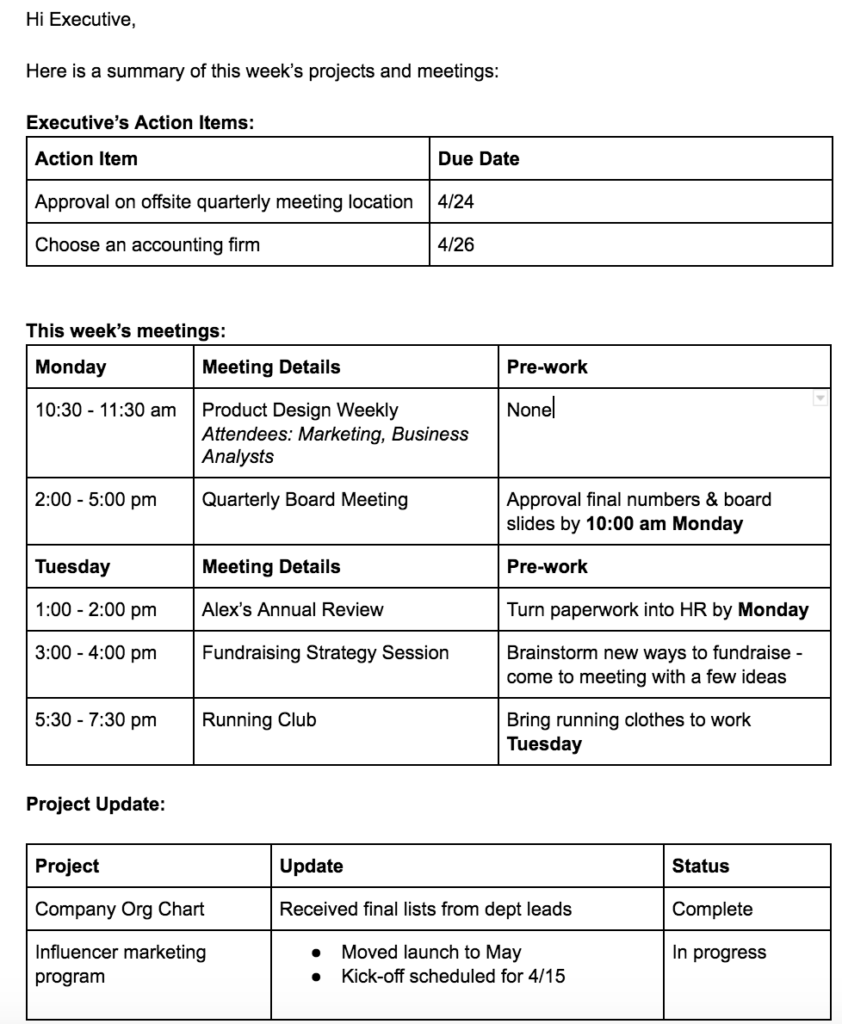 Using digest emails (like the examples above, or something catered more to your scenario) will help both you and your executive to stay in good communication, keep on top of important action items, and move business forward.
---
Do you want to know how Base is making it easier to go remote?
📨 Base Digest
Custom templates for daily and weekly updates, inbox reviews, trip and meeting summaries, and much more.
✅ Decision Stream
A simple question feed that allows assistants to give busy executives the ability to convey decisions in seconds.
🗂 Dossier
Organize executive preferences, habits, key contacts, software, and more in a single, secure location.