Base's Spotlight Series highlights top performing Executive Assistants around the country! This week, we're thrilled to get to know EA and Data Analyst, Mallory Greer. Based in Greenville, South Carolina, Mallory partners with a number of agencies including 33Vincent, Virtuous CRM, and Keller Williams Realty International. Check out our Q&A with Mallory below!
Tell us about yourself!
I spent the first 10 years of my professional career working in software – always client facing, usually managing many competing priorities, and managing people in several scenarios. In 2018, I had my first child. I had a successful career, and I never expected to be someone who wanted to stay at home with her child, but I found myself wanting just that. I wanted a purpose outside of being a mom, but I wanted a job that allowed me to be a mom more than just a handful of hours a week. That's when I found 33Vincent.
I've been with 33Vincent since May of 2018. I started working with one client in June of 2018 and the other in December of 2018. I also hold an internal role at 33Vincent doing data analysis and reporting.
I live in Greenville, SC with my husband, Michael, daughter, Weston, and our dog, Kiely. We love to go to the farmer's market, visit local breweries, play at the park or zoo, and take advantage of all that Greenville has to offer!
Tell us about the executive (or executive team) you support.
I support Jay Papasan, VP of Learning for Keller Williams Realty International and Gabe Cooper, CEO of Virtuous CRM. Their leadership teams do not have EAs, so I assist their staff with travel, and operations as well.
What does your typical work day look like?
I typically work from 7:00am to about 3:30pm on Monday, Wednesday and Thursday. I sneak in a few hours here and there on Tuesday and Friday, but I love the flexibility of being able to work and spend time with my daughter. I also incorporate runs and coffee dates as often as my schedule allows. I love using the early morning hours, when most others aren't yet working, to knock out email responses and tasks that require the most brain space, reserving the afternoons for calls as much as possible.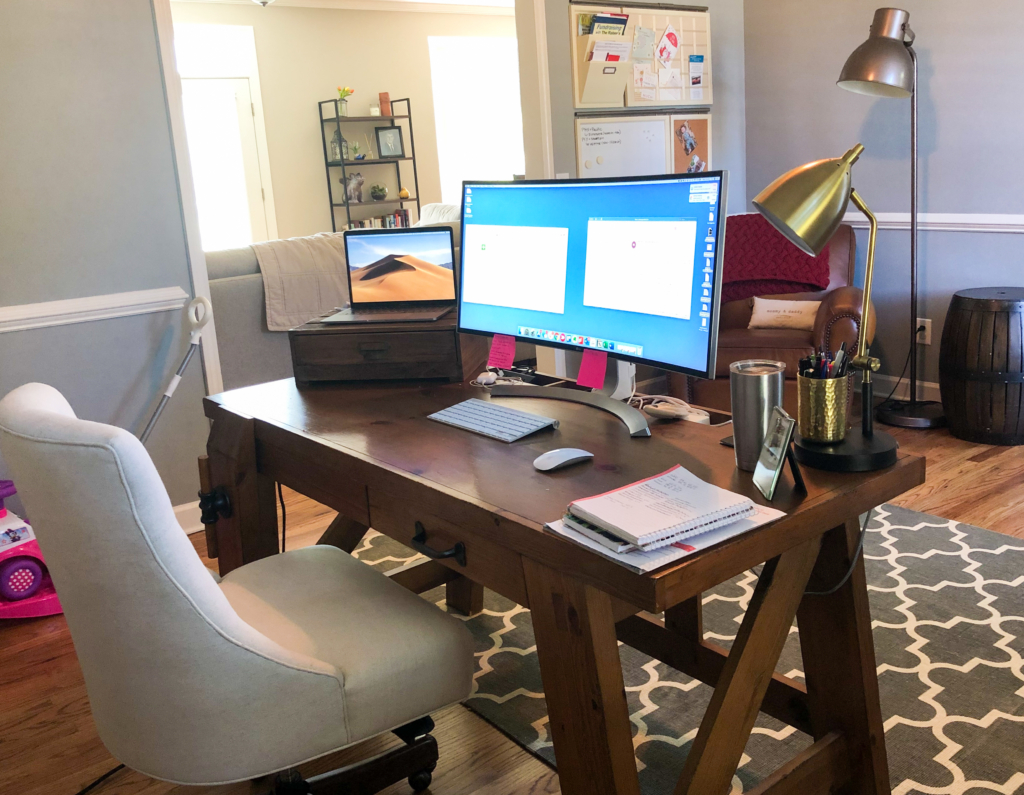 What types of tasks do you do on a daily basis?
I handle calendar and email management, travel research and booking, conference research and booking, file management, personnel updates, CRM management, social account management, transcription, newsletter editing, systems management (phone, etc), and ad hoc personal / professional tasks.
What about your job excites you?
I love taking something off my executive's plate, allowing him to spend his time tackling big picture items that ultimately help him achieve his goals. It's wonderful to hear the relief in his voice when I ask if I can help him with certain projects. There is a real sense of accomplishment that comes with completing tasks both big and small.
What is the most challenging part of your job?
95% of the time I would say scheduling. Things change last minute, meeting attendees are often in different time zones, sometimes I don't have access to a participant's calendar, conference rooms are difficult to reserve, and attendees can be non-responsive. Scheduling is just… challenging.
How often do you have check-ins with your executive? What is your general check-in agenda?
I check in with one weekly, ideally, but it doesn't always happen if his schedule is busy. The other I speak to three times a week. We typically cover calendar items, emails I need to consult on, updates on projects, and any new tasks he assigns.
How do you manage your tasks and schedule?
I'm in a bit of a transition right now. I almost always have a notebook with me – to jot down quick action items that I don't want to forget. I use Trello with one of my clients to track the various stages of a project. It works really well for us – we are able to check in, provide updates, and assign new tasks between our calls. It also helps facilitate virtual check-ins when the real thing isn't possible.
I also use my calendar to time block as needed – especially with a big project or time sensitive tasks.
How do you set goals for yourself? How do you stay accountable to them?
Goals that are tied to my clients are always the highest priority. My personal goals are the ones that tend to be put on the back burner. Since the client comes first, I try to set deadlines for my personal goals but allow a little wiggle room.
I stay accountable by telling someone about my goals, creating an accountability partner. I define the date in my calendar, in Trello, and in Notion.
What is one thing you do for your executive that they couldn't live without?
EVERYTHING! No, I'm kidding. They could survive. It just might not be pretty. I think most of what I do they COULD do, it's just not the best use of their time.
How do you empower your executives to do their best work?
Being proactive is the number one thing I do that allows my clients to do their very best. I do this by looking ahead on the calendar, building in wiggle room, making sure they have time (outside of meetings) to do what they need to do, saying no (for them.) I try to anticipate their needs as well as potential conflicts and will ask to take on more work if I don't feel a task is a good use of their time.
How do you see yourself as a strategic business partner to your executive?
I do the things that ultimately need to get done, but aren't a good use of the exec's time or talent. Can he do many of the things I do? Sure, he's smart, he's capable, but so often our execs are "big picture guys" who don't thrive in the details. I do. That's my jam, so I take care of those details while he focuses on the bigger picture.
EAs are excellent at taking care of their executive and the office. How do you take care of yourself?
Exercise is a big one for me – running and spinning specifically. I have a spin bike at home, so that helps me step away even when I only have 30 minutes. I also love to spend time with my family. My 19 month old is home with me two (work) days a week. I enjoy taking her to the park, zoo, and children's museum. We go visit my grandma, play outside, and read as many books as possible. That time is sacred, and my clients fully support that balance.
What is one piece of advice you have for new EAs?
Always ask the next question. One of my clients gave me this advice, and it's really shaped the way I work. If my client asks me a question, I always consider what he will ask me when I provide the answer, then I'll find THAT answer too. It's always better to have too much information than too little. Look around the corner, anticipate what your executive will do / say / ask, and come prepared!