Modernizing the Way Executive Assistants Work
Base's elite suite of tools is built for assistants to succeed in supporting executives—from anywhere. No interrupted workflows, simply faster, more efficient ways to do your job.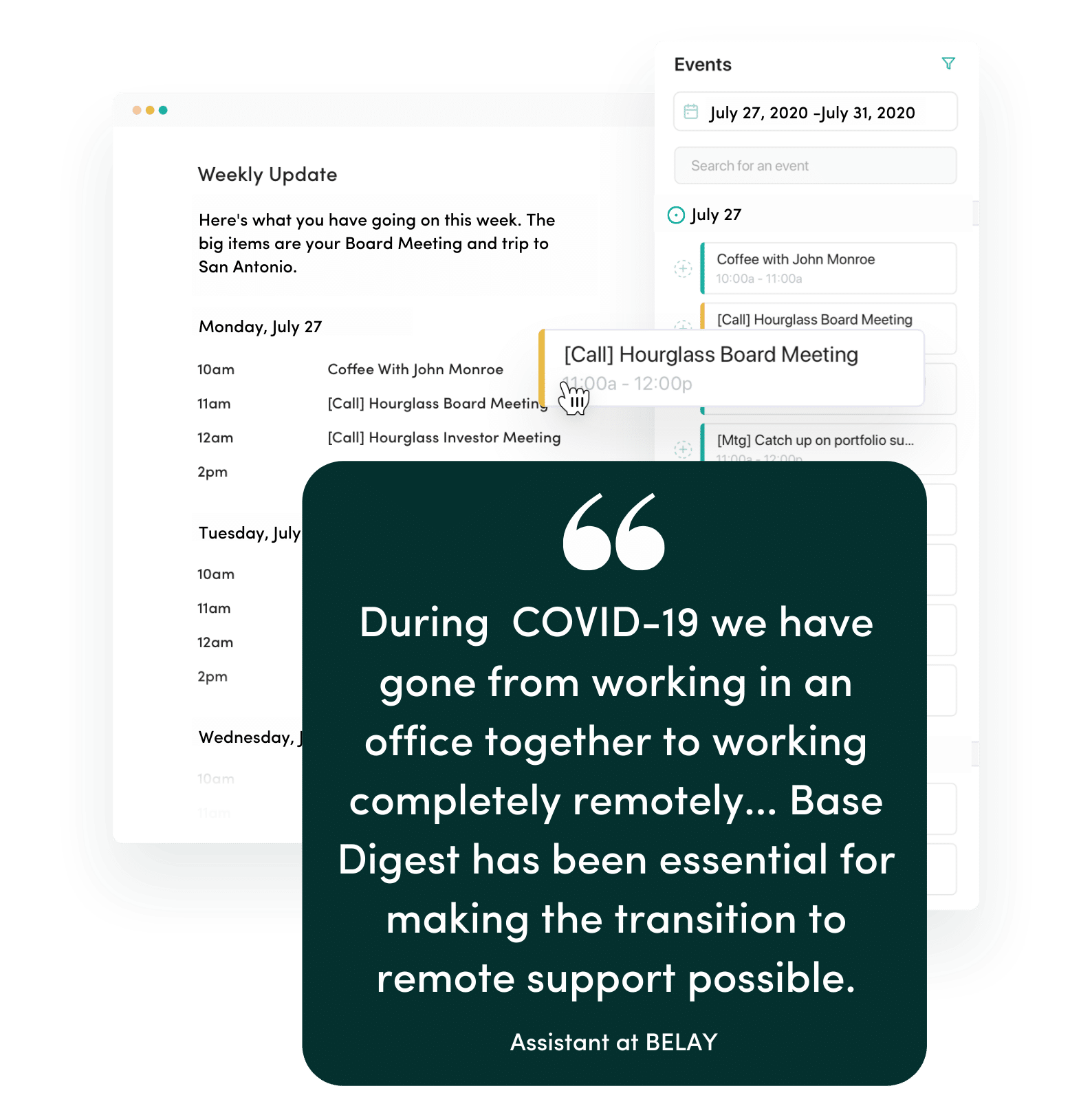 The Executive Assistant Career Path: Everything You Need to Know
Do you love process and organization? Are you someone who thrives in a fast-paced work environment? If so, you might have a bright future as an executive assistant. An EA is responsible for organizing and managing an executive's life, often including both business and personal appointments and engagements.
Executive Assistant Salary Expectations
A cross between a project manager, office administrator, and strategic ally, an executive assistant is a highly paid professional. In 2019, the average EA salary in the United States was $62,217. With that said, an EA's salary can vary greatly depending on:
Where you live
The company you work for
The level of executive that you support
How experienced you are
Your seniority
Importantly, EAs tend to make more money the longer they stay with an executive, because they become more critical to meeting that executive's needs. The more you know about your executive, the more vital you will be to his or her day-to-day operations.
Comparatively, an executive administrative assistant salary averages $48,217 a year. This is due to some confusion: an executive assistant is more involved than an administrative assistant, but the terms "executive administrative assistant" and "executive assistant" are often used interchangeably. Administrative assistants are paired with an office rather than an executive, and do assistant-level work throughout the office. If you're wondering "how much do executive assistants make?" and "what do executive assistants do?" this article will answer your questions.
Salary Negotiations
Generally, an EA will not get overtime if they are salaried, which is an important consideration. When thinking about your executive assistant to CEO salary, you need to consider the total amount of work you're being asked to do; otherwise, your hourly rate may actually be quite low. You should also consider the CEO's level and salary: a more highly paid CEO needs a more skilled (and highly paid) assistant. An executive personal assistant salary can be negotiated based on your skills: an assistant who has a business background, for instance, may be more desirable. A highly paid EA can move to other businesses and other executives quite easily, as skilled support professionals are very much in demand.
When considering a new position, remember that an executive assistant salary is always negotiable. EAs should negotiate their salaries based on the hours they work, how resource intensive their tasks are, and how specialized their knowledge must be. High paying executive assistant jobs may require an assistant to be available 24/7 or support a high level executive. For instance, you should expect the salary range for executive assistant to President to be higher than the EA to VP because the EA is performing a more critical role. The executive assistant pay-scale is always negotiable, especially for EAs who have been in the business for a long time.
The good news is that EAs are getting paid better every year. In 2017, the median salary for an executive assistant was $57,000. The executive assistant salary 2018 went up considerably compared to 2017, and the most recent data for executive assistant salaries 2019 shows an even further increase to $62,217. Interestingly enough, a recent review of an executive administrative assistant salary 2019 shows that administrative assistants are the second highest paid profession that doesn't require a degree.
EA Salaries by Region
Of course, an executive assistant salary, NYC is going to be very different than an executive assistant salary, Florida, an executive assistant salary, San Francisco, an executive assistant salary, Bay Area, and so forth. An EA's salary will be impacted both by the cost of living within the area and the amount of commerce in the area. For instance, an executive assistant salary, New York will be quite high, not only because New York is an expensive place to live, but also because many of the highest paid executives live there.
Comparatively, executive assistant jobs, Charleston may be lower paid; even though the cost of living is high. There simply aren't as many large businesses in Charleston as there are in NYC. Check out the latest stats below for some popular cities:
If you're looking to become an EA in a big city, pay attention to the job title. An EA in Los Angeles is likely going to be paid at a higher rate than a personal assistant salary, Los Angeles or executive coordinator salary, Los Angeles.
The Executive Assistant Job Description
Now that you know roughly how much an EA will be paid, it's time to discuss the executive assistant job description. What is expected out of those fulfilling executive assistant jobs may vary depending on the company and the executive. Usually, the level of executive will control the type of work that is required. A mid-sized business C Level EA job description will be different from that of an EA supporting the CEO of a Fortune 500 company. Usually, the company will offer a document or executive assistant job description PDF in their hiring process, to give you an idea of what the position entails.
It's important to see a full job description before accepting a position because executive assistant jobs can be extremely demanding and rigorous. You need to make sure that the company treats its executive assistants with respect, and that means, for example, being ready and willing to easily furnish an executive assistant to CEO job description. Otherwise, it may be too easy for additional responsibilities to be added to the role down the road. The executive assistant job description salary should also be clearly listed in the EA job description, and it should be high enough to compensate for the given responsibilities.
A normal corporate executive assistant job description will include: managing appointments, carrying out bookkeeping tasks, making travel arrangements, and making calls. It may also include taking notes, recording meeting minutes, and speaking with visitors. EAs may be expected to make and manage personal appointments and personal travel as well as business travel, and may be asked to track the CEO's personal finances as well as business finances.
Career Advancement
Once you learn how to be an executive assistant to a CEO, you may be wondering what's next after being an EA. For the most part, executive assistants become the assistant to progressively higher level executives. That doesn't just mean moving up from CTO to CEO, but it also means moving into progressively larger businesses. As you move to more prestigious businesses, the pay will also likely get higher.
EAs may also be interested in learning about the business so that they can ultimately move into other roles. They may be interested in one day becoming an executive themselves, either within the company or starting a company of their own. Often, an EA becomes a protege to their executive, and can be mentored by them.
If you're interested in eventually advancing across this career path, you should make it clear when interviewing for assistant positions. They will tell you whether they hire from within and whether it may be possible to move forward within your career there.
How can you make sure you're doing the best job possible as an executive assistant? Set up regular performance reviews with the executive you support. An executive assistant performance review will cover any issues that your executive has experienced with your work product, which can be something as simple as not taking down enough information in meetings. Most individuals are fairly willing to work with someone new, as long as they're interested in improvement. Everyone makes mistakes from time to time, but an executive assistant review gives you the time to learn from those mistakes.
Considerations for Newcomers
If you're considering a career as an EA, you may be asking yourself, "Are executive assistants respected?" EAs do an extremely difficult job, and whether they're respected depends on the environment in which they work. Some executives understand that they rely upon their assistants for virtually everything, and consequently have a great deal of respect for EAs. Unfortunately, lower level EAs may struggle to get respect and acknowledgment if the executives they support do not view them as strategic partners.
You may still be wondering, "Should I be an executive assistant?" It's an excellent career path that provides a significant salary for someone with or without a degree. It all depends on whether you're interested in the field. Does the idea of managing timelines, coordinating schedules, and problem solving appeal to you? Are you one of those people who naturally likes to organize chaos? Or are you an individual who someday wants to be an entrepreneur, and wants to learn as much as possible about a business?
To be successful as an EA, you need to be willing to consistently improve and juggle a variety of projects simultaneously. If you're up for the challenge, it's a career path with unending potential!
The Executive Assistant Toolbox
If you're considering a career as an EA, Base is about to be your new best friend! By providing technology tailored to the executive work style alongside a community where executive support professionals can learn and interact, Base is building a foundation for positive change in the industry. Join our Facebook Group Assistant Community to get the latest content and network with growth-focused EAs.