Amplify the Impact of Executive Assistants!
By providing tools and technology tailored to the executive work style, Base empowers executive assistants to be more strategic, proactive, and productive. Give the assistants in your office the tools they need to succeed!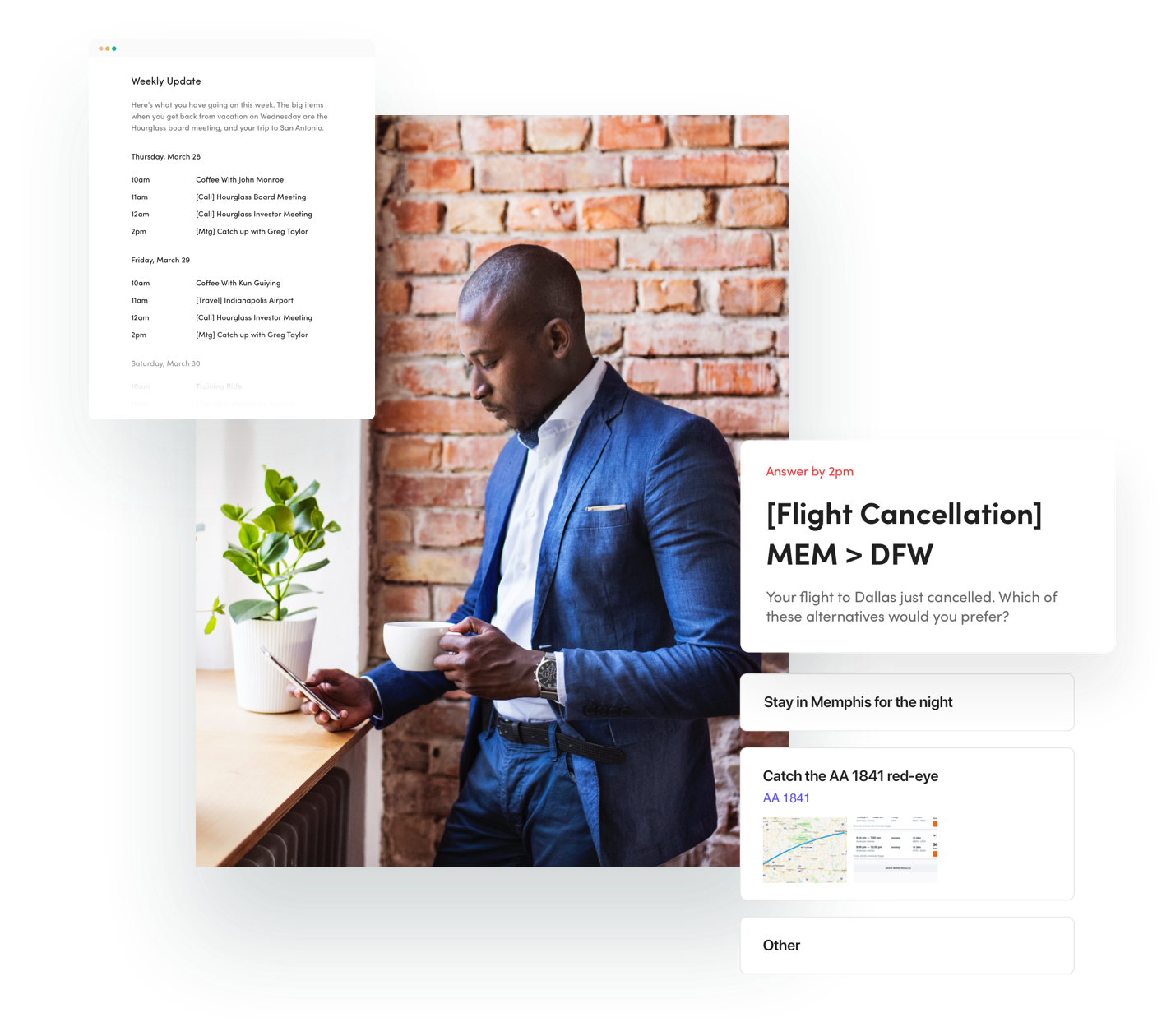 Crafting an Executive Assistant Job Description
Writing an engaging and effective executive assistant job description can be a steep mountain to climb for hiring managers. An executive assistant job description is the area of a job posting that gives an overview of the role and key responsibilities. Whether you're posting the job opening on Monster, ZipRecruiter, Indeed, or another job search site, making sure your description is on point will give you the best chance of finding a well-qualified candidate. Writing job descriptions may be difficult, but whether you're looking to fill an executive administrative assistant position or another assistant role, you need to put your best foot forward in order to ensure you get the perfect executive assistant resume sent to your inbox. To help you get started, Base is here to help!
The Executive Assistant Definition
An executive assistant works directly for a member (or multiple members) of the executive team. They are there to assist executives with administrative duties, travel arrangements, inbox and calendar management, and a wide variety of other responsibilities. These positions are sometimes the backbone of the organization, helping leadership to maximize their productivity.
The Executive Assistant Job Description
Writing great job descriptions can be difficult, but there are some tips and tricks that can help you create one effectively. One recommendation is to clearly examine the role you're creating a description for. From there, craft an executive job description that is tailored precisely to the position. If you're creating multiple job descriptions, make sure that there is some variety with your executive personal assistant job description postings. You don't want to copy content word-for-word—it's important to make each posting unique. Be sure to check out executive assistant job description PDF training documents. To get started, search the web for a relevant executive assistant job description sample. Here is an example of a
Typical EA Responsibilities
While many executive assistants have some similar job duties, responsibilities typically vary greatly based on the position. Many factors play into this, including the industry, size of the company, responsibilities of the executive, and much more. Before we dive into the differences, let's discuss the common key responsibilities of an executive assistant. They are as follows:
Answering phone calls
Scheduling appointments
Calling clients
Printing documents
Sending emails
Scheduling travel
Tracking budgets
Filing and organizing documents
While the majority of executive assistant roles will at least some of the above job duties, there can be far more depending on the many factors we mentioned earlier. Even if a job candidate doesn't have the typical executive assistant qualifications, they can still have skills that pertain to the specific job.
EA Job Descriptions by Seniority
Another factor that plays a huge role in the desired experience of an executive assistant and the job description you create is the seniority of the executive. For example, if an executive has only had their position for short period of time, they may not need an assistant that has tons of experience. On the other hand, if an executive has had decades of experience, then he or she will typically want an executive assistant that has been an EA for years and possesses a diverse set of skills. This is more typical in corporations where the company might have dozens of seasoned executives. For these positions, crafting a corporate executive assistant job description should include areas that require the candidate to hold certain skills and years of experience.
C Level Executive Assistant
When we talk about upper-level executives, these are sometimes referred to as C level executives (CEO, CTO, CFO). These executives make company-wide decisions for the business and are typically the most senior level person in the department. When crafting a job description for EAs supporting these executives, you'll need to make the level of responsibility clear in your C level executive assistant job description. Now that you understand the C level executive assistant meaning, let's dive into the EA position that holds the most weight.
Executive Assistant to CEO
When talking about the most senior people in any organization, you can't forget about the CEO. Chief Executive Offers run the show, so the executive assistants working under them also hold prestigious positions. EA positions at this level typically pay extremely well, but candidates usually have to have decades of experience to land the role. When it comes to an executive assistant position for a CEO, it's important to understand that the role might vary greatly compared to other EA positions. For example, an executive assistant to CEO job description will look far different than an entry-level EA position. The duties of an executive assistant to the CEO typically hold greater importance compared to other EA positions. Knowing that, only those with an impressive executive assistant to CEO resume will be considered for employment. Take a look at the duties of an executive assistant to the CEO position that may be different than other roles:
Manage the CEO's schedule
Fill in for the CEO in low value meetings
Interact with the board of directors
Assist in mergers and acquisitions
A CEO secretary job description varies from job to job, but all of these responsibilities tend to hold great importance and have a huge impact on the rest of the organization.
Executive Assistant to President
A company president is sometimes called the CEO, and the job duties of their assistants hold similar importance. These EA roles will typically include an impressive salary and the duties will have a large impact on the organization. When crafting an executive assistant to the president job description, it's important to clearly explain the duties of the role and put emphasis on candidate experience. If you're developing an executive assistant to vice president job description, then you may include slight differences in the descriptions and the candidate might not need as much experience.
Senior Executive Assistant Job Description
With the introduction of added organizational layers, many companies have introduced the "senior executive assistant" position to assist those executives that are higher up. These assistants help with decisions that affect the whole company and their duties hold much more weight. When crafting a senior executive assistant job description, be sure to emphasize the importance of the role. To land one of these prestigious positions, a candidate will need to craft a unique, engaging senior executive assistant resume that'll blow you away. Crafting an effective job description is easier said than done. Take a look at an example of a senior executive assistant job description below:
We are looking for a diligent Senior Executive Assistant to support management with daily administrative duties. The responsibilities of the Senior Executive Assistant include planning meetings and organizing calendars. To be successful as a Senior Executive Assistant, you should have excellent organizational skills, be proactive, and possess a professional demeanor. Ultimately, a top-notch Senior Executive Assistant should be equipped with experience, able to tackle any task given to him or her in a timely fashion and communicate effectively.
To have your best chance of landing the right candidate, it's important to write your senior executive assistant to CEO job description similar to the example above.
EA Job Descriptions by Department
One reason that many well-qualified executive assistant candidates fail when applying for a job is that they don't tailor their resume for the specific job they're applying for. Like we mentioned previously, many of the responsibilities of executive assistants vary based on a number of different factors. It's vital for a candidate to edit his/her resume based on what the hiring manager is looking for. This also applies when crafting a job description for a position. We'll use Human Resources as an example. If you're developing an executive assistant job description for a Human Resources Assistant or something similar, the responsibilities will differ than those associated with other areas such as sales or marketing. As an example, take a look at a sample of a great HR job description that will help you understand the HR assistant skills a candidate should have:
We are looking for a hardworking and reliable HR administrative assistant to join our ambitious Human Resources dream team! If you are passionate about HR operations and you would like to give your contribution in creating a great company culture, this is the right position for you. Your job will be to support the work of the HR department by performing a variety of tasks. In this position, your primary duty will be to collect and manage all data pertaining to a business' employees, but you will also be involved in the recruiting, hiring, and training of new employees.
For more examples, be sure to research the web to find many other HR administrative assistant job description PDF example documents. Again, even HR assistant duties and responsibilities vary from job to job, so be sure to keep this in mind. Do your best to find HR assistant job description PDF documents that pertain to the job you're making a description for. Writing an effective HR executive assistant job description can help you find a qualified candidate who will accept the HR executive assistant salary you have in mind.
Executive Assistant Salaries
When crafting your job description for an executive assistant position, many hiring managers will include a salary range. However, there is a debate on whether this is a smart tactic or not. While including a salary can help you come across as direct and straightforward, you don't want to turn candidates away if their expectations aren't aligned with the executive assistant to CEO salary or the C level executive assistant salary. There is always time to negotiate with the candidate once they apply, so that's why many employers will shy away from including an executive assistant salary or an executive assistant salary hourly rate on the job description.
According to Glassdoor, a typical executive assistant salary in 2019 was about $54,000. But as responsibilities are added to the EA role and the cost of living rises, you can expect to see an executive assistant salary 2020 that is much higher.
EA Salaries by Region
When thinking about executive assistant salaries, it's important to understand that salaries greatly depend on the location of the job. For example, an executive assistant salary in the Bay Area will be much higher than the average executive assistant salary Florida offers. This all relates to the higher cost of living in these areas and the industries most popular in those locations. The average executive assistant salary California offers and the executive assistant salary New York offers are some of the highest in the country, so be sure to keep that in mind when crafting your job description and choosing whether to include the salary or not.
By providing tools and technology tailored to the executive work style, Base empowers executive assistants to be more strategic, proactive, and productive. Request a demo today!